Macedonian cinematography has some really good and authentic films in its catalog. Although the quantity of movies produced yearly is on the lower end, many of them are excellent films, worth watching several times.
Macedonian cinema is the oldest in the Balkans, dating back to the beginning of the 20th century. The first ever film in the area was shot in Bitola by the Manaki brothers. Yanaki and Milton Manaki were the pioneers of photography and cinema, not only in Macedonia but in the entire Ottoman empire as well. In 1905 they used a 35 mm Urban Bioscope camera that Yanaki imported from London to film their grandmother spinning and weaving. They made a 60-second documentary titled "The Weavers" which, as we said, is considered to be the first motion picture shot in the Balkans. The brothers filmed several documentaries subsequently, depicting the life in and around the city of Bitola at that time.
Since then, Macedonian cinematography grew and developed throughout the years. In former Yugoslavia, Macedonian filmmakers were creative and fertile, producing movies that were stylistically under a huge influence of the European cinema while still offering an authentic aesthetics. Still, however good and influential they were, in this list we're going to include only movies that were produced after Macedonia gained its independence in 1991. The movies in the list below are chosen for their popularity, international success, influence, prospects, and of course, great filmmaking craft and creativity. Without further ado, here are the top 10 Macedonian movies you shouldn't miss:
1. HONEYLAND (2019)
Genre: Documentary
Honeyland started as a commissioned video for an environmental project about the art of wild beekeeping and developed into a full-length documentary that won three Sundance Film Festival awards in 2019. It is the first film ever to gross three awards in the history of this prestige festival. Honeyland won the Grand Jury prize, along with the Special Jury Award for Impact for Change and the Special Jury Award for Cinematography, all three in the World Cinema Documentary category. The film premiered at the festival and immediately after it embarked on a worldwide tour.
Honeyland depicts the life of Hatidze Muratova, wild-beekeeper, without any comment, context, or off-screen narration. Their own IMDb page describes the movie as an "observational indigenous visual narrative." Still, the message gets through from the very beginning – "One half for me, one half for you!" is what Hatidze tells the bees when she "borrows" their product. One sentence that formulates the main message in the film – the essential and urgent need to maintain a balance between mankind and the natural resources.
Honeyland is not a commercial movie by any standard means. Nevertheless, it gained huge attention and, both critics and audience's, awe, I was lucky to have a seat at the closed premiere for journalists in my hometown of Skopje. All I can say and not blab much is that the film is a piece of art and that its five minutes are yet to arrive. As of April 2019, Honeyland is still on its tour-de-cinema across the world, including the US, and it probably will be in the next year or so. Check the cinemas and film festivals near you to go and see this movie – I promise you won't regret it!
It's a quiet and passive film that's content to luxuriate in place and revel in solitude, which, in turn, both drags the narrative's loose pacing and instills a certain natural structure that, once embraced, becomes almost mesmerizing.

Gary Garrison, The Playlist
Sometimes funny, sometimes beautiful, and often enlightening.

Alissa Wilkinson, Vox
IMDb summary: The last female beehunter in Europe must save the bees and return the natural balance in Honeyland, when a family of nomadic beekeepers invade her land and threaten her livelihood. This film is an exploration of an observational Indigenous visual narrative that deeply impacts our behavior towards natural resources and the human condition.
Directed by Tamara Kotevska and Ljubomir Stefanov Produced by Atanas Georgiev Music by Foltin Cinematography by Fejmi Daut and Samir Ljuma
2. SECRET INGREDIENT (2017)
Genres: Comedy, Drama
This is my favorite Macedonian movie from recent years. Secret Ingredient is such a well-crafted film with excellent acting and easy-to-follow storytelling. The movie sets off in a depressive mood which soon turns into a stoner comedy and transforms again into a dark, crime-related story with some really funny plot development and a relatively happy ending. Still, the movie is formatted by the standards of neither dark comedies nor stoner films. Its unique plot is well supported by the convincing acting and excellent film editing and directing. It took Gjorce Stavrevski seven years from the first written words to the premiere of the movie, and it was all worth it. Secret Ingredient is a well-written, well-designed, and unpretentious film that will surely make you laugh and cheer you up a bit.
So far, the movie participated at dozens of film festivals across the world and grossed seven international awards. It took the Best Film award at the prestigious film festival in Santa Barbara, California. At the film festival in Aubagne, France, the film won the Best Film award, competing with 9 other movies. At the Bergamo Film Festival, Italy, it also won the First Prize in the main competition. At the Francofilm Film Festival in Rome, Italy the film received a Special Mention Award from the jury, as well as a special award at the Sofia Film Festival, from the jury of the Balkan Program.
Secret Ingredient is still on a worldwide festival and cinema tour as of April 2019.
Secret Ingredient is an unassuming tragicomic gem that could well end up charming its way into niche distribution beyond the festival circuit. Given the number of proud stoners in Hollywood, an English-language remake is also an option, perhaps with Woody Harrelson or Matthew McConaughey in the lead? Pass the bong, dude.

Stephen Dalton, The Hollywood Reporter
The delicious "Secret Ingredient," which irrefutably launches Stavreski's career but could even give the wider Macedonian film industry a contact high, thoroughly deserves to have its heavily weed-laced cake, and eat it.

Jessica Kiang, Variety
IMDb summary: An underpaid train mechanic gives his father a cake made of stolen marijuana to relieve his cancer pain, but he is cornered by the criminals who are searching for their drugs and the nosy neighbors who want a recipe for the "healing" cake.
Directed and written by Gjorce Stavreski Starring Blagoj Veselinov, Anastas Tanovski, Aksel Mehmet Music by Foltin Cinematography by Dejan Dimeski
3. BEFORE THE RAIN (1994)
Genres: Drama, War
Milcho Manchevski is the filmmaker who put Macedonian cinematography on the global map with his debut feature film 'Before the Rain'. The movie was nominated for an Academy Award for Best Foreign Language Film in 1995 and won the Golden Lion award at the 51st Venice International Film Festival a year earlier. It didn't stop there – Before the Rain grossed over 30 international awards and was distributed in more than 50 countries. The film was a hit in the cinemas in Sweden, Italy, Turkey, Mexico, Argentina, Brazil, as well as across ex-Yugoslavia. In the US theaters, it grossed $763,847, a surprisingly good box office performance for a subtitled movie with no stars. The film has been praised by critics internationally and became the pride of Macedonia for years to come. The New York Times included Before the Rain in its book "The Best 1,000 Films Ever Made". The movie has been part of the curricula at numerous universities and in the Italian and Turkish high schools.
For me, Before the Rain isn't Manchevski's best work. Another movie which is also in our list, Dust (2001), is way better in my opinion. Still, Before the Rain is a must-see movie if you want to get acquainted with Macedonian cinematography.
Director Milcho Manchevski has made a debut so astonishingly assured in writing and technique, he is guaranteed a footnote in movie history even if he never makes another film. Before the Rain is stunning. It's the sort of remarkable movie debut that reinstalls your faith in the medium's viability as genuine art.

The Miami Herald
IMDb summary: The circularity of violence seen in a story that circles on itself. In Republic of Macedonia, during war in Bosnia, Christians hunt an ethnic Albanian girl who may have murdered one of their own. A young monk who's taken a vow of silence offers her protection. In London, a photographic editor who's pregnant needs to talk it out with her estranged husband and chooses a toney restaurant. She wants permanence with her lover, a prize-winning Macedonian photographer just back from Bosnia, changed by the violence. He leaves abruptly for his village; he's not visited it in 16 years. There he tries to ignore bitter divisions between his Orthodox brethren and local Albanians, then tries to transcend them.
Directed and written by Milcho Manchevski Starring Katrin Cartlidge, Rade Serbedzija, Grégoire Colin Music by Anastasia Cinematography by Manuel Teran
---
---
4. BAL-CAN-CAN (2005)
Genres: Action, Adventure, Comedy
Bal-Can-Can is probably the best known Macedonian feature film in the comedy genre. It is the highest-grossing movie to date in the country. This 2005 Macedonian-Italian joint production tells a story about a deserter who roams through several Balkan countries in search of his dead mother-in-law who is wrapped in a carpet. Although the movie is a comedy, it unveils some dark themes like human trafficking and illegal organ trade. It will make you laugh but it will certainly make you think about some nasty worldwide problems. War is war even when you see it from a funny perspective.
Bal-Can-Can was officially released in Russia, United Kingdom, Spain, Turkey, Greece, Ukraine, Serbia, Croatia, Bulgaria, Slovenia, Bosnia and Herzegovina, aside from Macedonia and Italy. You can order a DVD from Amazon or similar sites and enjoy the movie in super-good quality. If you don't care that much about the quality, the film is available to watch on YouTube with English subtitles.
Writer-helmer Darko Mitrevski keeps pushing the envelope… The cynical, hallucinatory, modern Pilgrim's Progress is a trip, with memorably out-there sequences sure to build a cult rep among adventuresome cineastes.

Dennis Harvey, Variety
IMDb summary: A Macedonian military deserter and his Italian blood-brother are searching for a dead grandmother wrapped up in a stolen carpet, all over the Balkan's criminal underworld.
Directed and written by Darko Mitrevski Starring Vlado Jovanovski, Adolfo Margiotta, Zvezda Angelovska Music by Kiril Dzajkovski Cinematography by Suki Medencevic
5. THE GREAT WATER (2004)
Genres: Drama, War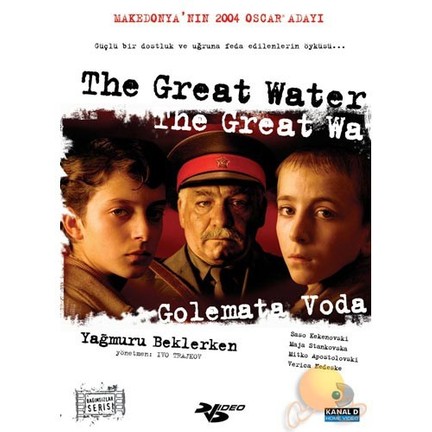 The Great Water is a film adaptation of Zhivko Chingo's book from 1970. The film deals with the suffering of children under a communist regime in the first post-war years. As New York Times reviewer stated, it is a difficult film to watch but also a difficult film to forget. Besides the excellent performance from the main actors, the movie is fascinating for the fabulous acting by the children cast (more than 250) as orphans.
The Great Water won the Grand Prize at Valencia Film Festival and was Macedonia's submission to the 77th Academy Awards for the Academy Award for Best Foreign Language Film. The film also got great ratings from the film critics as well as from the international audience.
Wiki plot summary: A Macedonian politician who is experiencing a heart attack and while he is being wheeled into a hospital and examined and wired, he has memory flashbacks to his childhood in 1945. He is brought to the 'orphanage' where orphans are children of the enemies of the new regime. There he learns how to adjust to the role of obedient brainwashing.
Directed by Ivo Trakjov Writers: Zhivko Chingo (novel), Ivo Trajkov Starring Saso Kekenovski, Maja Stankovska, Mitko Apostolovski Music by Kiril Dzajkovski Cinematography by Suki Medencevic
---
---
6. AMOK (2016)
Genres: Crime, Drama
Amok ("Dzgan" in its original Macedonian version) is a debut feature film written and directed by Vardan Tozija. The film portrays the life of a quiet and withdrawn boy who becomes a ferocious leader of a gang of teenagers from a juvenile center through a series of tragic events. The premise of the movie is that no one is born violent but rather turned into by the unjust society.
The film's cast consists of professional actors as well as youngsters for which Amok was their first time in front of a camera. The director spent around two years in search of a non-professional, naturally talented actor for the main role and it succeeded to the full with the choice of Martin Gjorgoski. Although the team spent years to find the right person for the main role, the entire movie was shot in 26 days with 2/3 of the movie shot at night.
IMDb summary: Series of cruel circumstances turn quiet and reticent boy into harsh, uncompromising leader of the group rejected wards from home for orphans. Together, they set out in a blind revenge on the world beyond their walls, that only brought pain and suffering. A world they all call by one name – Amok.
Directed and written by Vardan Tozija Starring Martin Gjorgoski, Deniz Abdula, Nikola Ristanovski Music by Aleksandar Pejovski Cinematography by Vladimir Samoilovski
7. TO THE HILT (2014)
Genres: Action, Drama, History
A little bit of old-school magic by the cult Macedonian director Stole Popov whose name stands behind some of the greatest film achievements in pre-independence, as well as in independent Macedonia. To the Hilt is an action-adventure western style movie written by another cult Macedonian figure, the writer and dramatist Goran Stefanovski. It deals with the paradoxes of the life on the Balkans, the intermingling of myths and anti-myths, and the cruel social circumstances in Macedonia at the beginning of the 20th century.
Although it is considered a western-style movie, To the Hilt is explained by the director Popov as an "Anti Western, a counterpart of the traditional American Western or something we can freely call Macedonian Eastern. This film breaks down the barriers of the space where western and eastern civilization have intertwined for centuries."
IMDb summary: Macedonia is a small country, in the heart of the Balkans, which for five centuries was under the yoke of the Ottoman Empire. The action of the film "To the Hilt" takes place in the years of the general collapse and "free fall", after the Macedonian uprising of 1903 which was extinguished in blood. The story is a love quadrangle between an uncompromising idealist rebel, a merciless Turkish officer, an opportunist rich man's son returning home after his studies in Europe and a lucid and open minded European woman, who flirts with the three men and puts in train a series of events with dire consequences, that she could hardly imagine. The characters go through turbulent collisions which lead them to cathartic experiences and new self-awareness. The film is a harsh and romantic story in which the eternal Macedonian cause for own identity and independence is seen through the prism of relativity of the ideas of freedom, justice, love, sacrifice, and treason. The story dramatizes and parodies the myth and anti-myth of East and West, of Europe and the Balkans. It leads to a boiling point the paradoxes and absurdities of Macedonian history
Directed by Stole Popov Writers: Goran Stefanovski, Stole Popov Starring Inti Sraj, Sasko Kocev, Martin Jordanoski Music by Duke Bojadziev Cinematography by Apostol Trpevski
---
---
8. DUST (2001)
Genre: Drama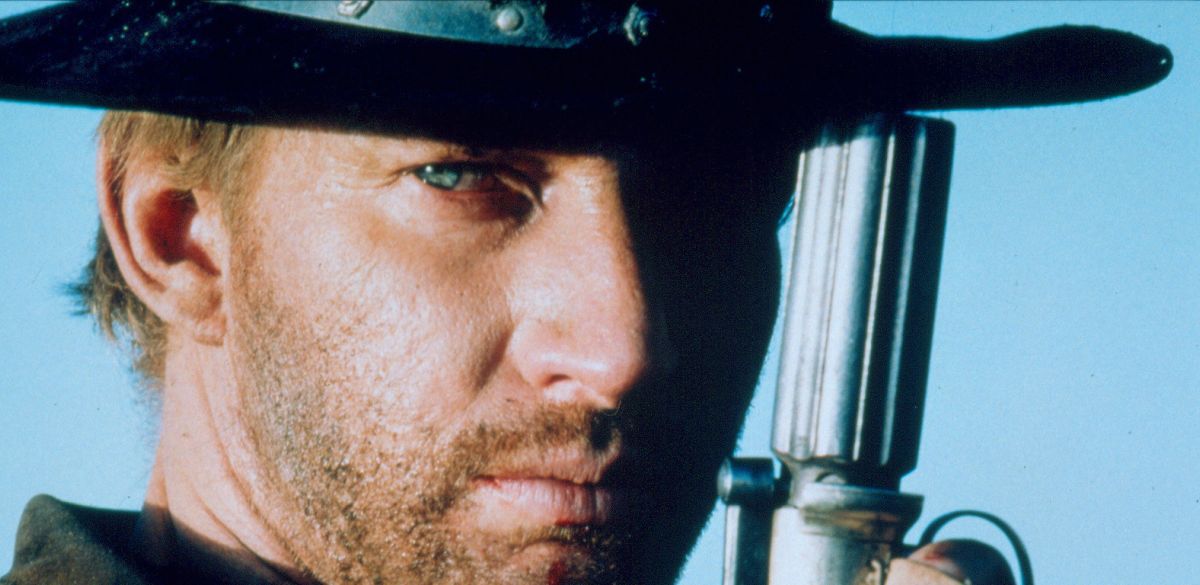 As I mentioned earlier, this is my favorite Milcho Manchevski movie. After the big success of Before the Rain, everyone's eye was turned towards Manchevski's next attempt. Although the movie deals with themes from the Balkans, as in his previous film, the storytelling is quite different. Dust is far more sarcastic, funny, and unpredictable. It is a time-twister drama, starring Joseph Fiennes, David Wenham, Adrian Lester, Rosemary Murphy, Nikolna Kujaca, Anne Brochet and Vera Farmiga. The scenes were shot in several countries, including Cologne in Germany, New York City in the US, and Mariovo and Bitola in Macedonia.
Dust premiered at the 2001 Venice Film Festival and immediately brought accusations that the movie has a political agenda. Several critics accused Manchevski of anti-Muslim, anti-Albanian, and anti-Turkish elements. Some went so far, that they blamed the director for taking sides in the then ongoing armed conflict in Macedonia, completely ignoring the fact that the film was shot before the hostilities began. Although some of the critics withdrew from their original statements and the movie started to gain excellent reviews when it began with its regular theater projections, the damage was done, and Dust never achieved the wide distribution expected from the follow-up to the phenomenally successful Before the Rain.
Milcho Manchevski's stylized western, Dust, is a potent, assured and ambitious piece of filmmaking brought down by weighted dialogue and, playing Americans, the British actors Adrian Lester and Joseph Fiennes and the Australian David Wenham.

Elvis Mitchell, New York Times
IMDb summary: Two parallel tales of redemption, a century apart. A burglar is held at gunpoint and forced to listen to a story. At the turn of the 20th Century, two brothers feud over a woman. She marries one; the other, Luke, a deadly gunslinger, becomes a soldier of fortune in Macedonia, and gets embroiled in a local revolution. He's after money. Wounded by his brother, he's nursed by a pregnant villager who urges him to "kill for good, not for gold." A dying old woman in modern Manhattan tells Luke's story; her listener is Edge, a young thief who's burgled her flat to pay off crooked cops who can send him to jail. He listens with the desperate hope that he'll find gold that he thinks she has. The stories intersect when Edge sorts out the old woman's surprising connection to Luke.
Directed and written by Milcho Manchevski Starring Joseph Fiennes, David Wenham, Adrian Lester Music by Kiril Dzajkovski Cinematography by Barry Ackroyd
9. MIRAGE (2004)
Genre: Drama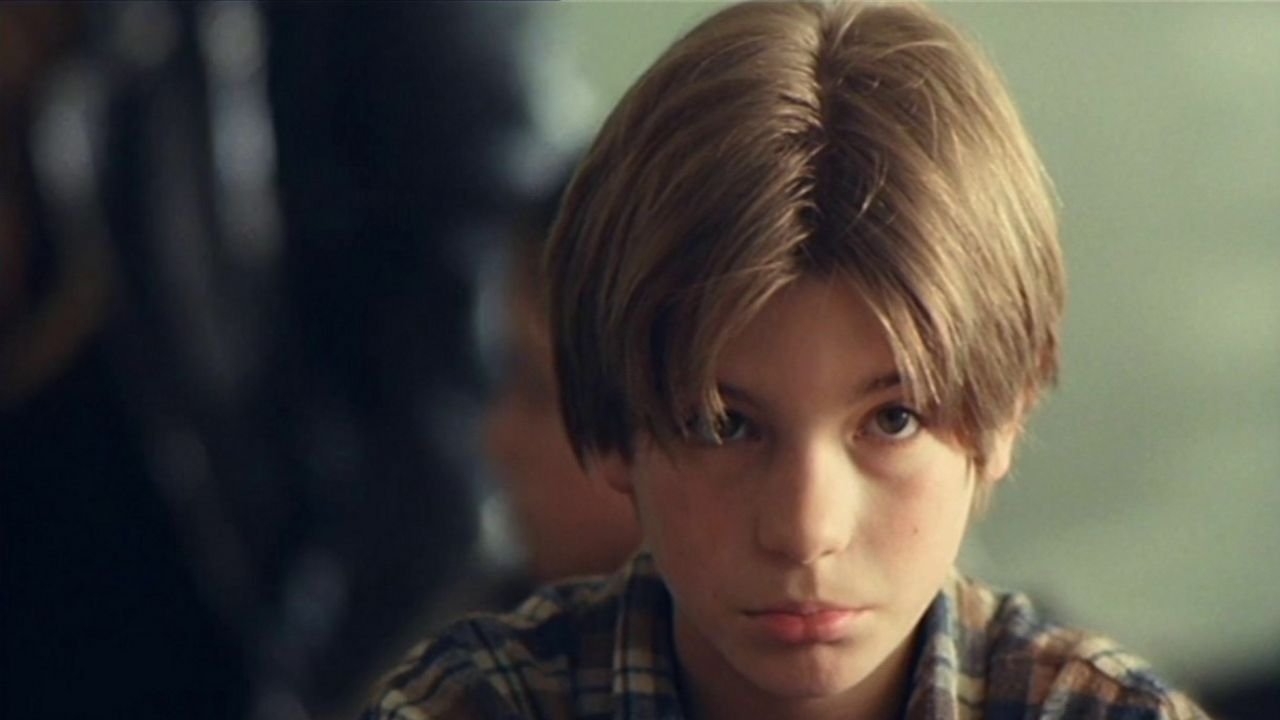 Mirage is a dark social drama with absolutely no positive message and no happy ending. It is a grim depiction of post-independence Macedonia, portraying the country as a site of despair, violence, and corruption. Still, it is one of my all-time favorites and I watched it several times with the same excitement and attention as the first time. It's not only my opinion – the movie grossed some excellent reviews by the critics, having a very high (82%) ranking on Rotten Tomatoes. Most of the praise was directed towards the young Marko Kovacevic for his lead role – he was lauded as "remarkable" by Variety and "superb" by The Hollywood Reporter, while The Village Voice commended him for "channel[ing] gentle and ferocious with equal ease."
The main philosophical topic in the movie is the illusory nature of hope, underlined by the film's epigraph ("Hope is the worst of evils, for it prolongs the torments of man.",) an aphorism from Friedrich Nietzsche's Human, All Too Human. If you're not into pessimism, torment and existentialist despair topics, you probably shouldn't watch it. Still, everything about this movie is so well made and delivered that it would be a shame not to see it, at least once.
Ristovski's debut feature is unremittingly grim and powerful.

Frank Scheck, Hollywood Reporter
IMDb summary: Marko has a poet's sensibilities in Veles, a town in war-torn Macedonia. His sister is a bully, his mom's a doormat, and his dad is a striking factory worker who drinks and plays bingo. At school, Marko is tormented by thuggish fellow students, led by the loutish Levi, the son of a police captain. Marko's teacher of Macedonian, a Bosnian, sees promise in Marko's writing and gives the lad hope that he can someday escape Veles. A chance friendship with a thief who's passing through town furthers Marko's education. Is hope a mirage? What sort of fatherland is Macedonia?
Directed by Svetozar Ristovski Writers:Svetozar Ristovski, Grace Lea Troje Starring Vlado Jovanovski, Marko Kovacevic, Jordanco Cevrevski Music by Klaus Hundsbichler Cinematography by Vladimir Samoilovski
10. THE SECRET BOOK (2006)
Genres: Drama
OK, this movie is on the list because of my obsession with the film's theme – the medieval Bogomil movement in Macedonia and Bulgaria. Not that the movie is not good but due to different circumstances it failed to receive wider international recognition. The plot revolves around the mysterious secret book which is said to contain an authentic outline of the Bogomil doctrine. Bogomil ideas were spread to France and Italy from the Balkans by refugees or returning crusaders in the 11th century, where they became the basis of the Cathar heresy. This film tells a story of a man who takes a reverse journey from his native France to the Balkans and Macedonia to explore the roots of this heresy and to find the original of this mysterious book.
The Secret Book offers mesmerizing cinematography and an excellent performance by Thierry Fremont and Vlado Jovanovski, as well as a short but memorable role by the prominent French actor Jean-Claude Carrière. It's a bit theatrical in style, suitable enough for the medieval but hallucinatory nature of the plot.
The movie isn't easy to find to watch. It's available on YouTube in whole but without subtitles, so it would be a challenge for non-Macedonian audiences to follow the narrative.
IMDb summary: The search for the Secret Book of the Bogomils brings Guy Chevalier (Thierry Fremont) to Macedonia. There, he is haunted by the spirit of the Gardian of the book and followed by unknown forces. Little by little, he starts loosing his mind and his identity.
Directed by Vlado Cvetanovski Writers: Ljube Cvetanovski, Jordan Plevnes Starring Jean-Claude Carrière, Thierry Frémont, Labina Mitevska, Vlado Jovanovski Music by Toshe Pop Simonov Cinematography by Thierry Arbogast
---
---
This list is far from presenting the bulk of Macedonian filmography. Although sparse in comparison with other countries' quantity of yearly movie production, in the past 30 years Macedonian filmmakers put together some really good movies aside from these ten. Check IMDb or Google other Macedonian movies if you want to explore further. If you like this list or disagree with it, if you'd replace one film with another, or add something to the existing post, please write to us in the comments area below. In the meantime, enjoy these remarkable films and explore the depths of Macedonia cinematography.
Til next time!
---
---